Sunday Gospel Reflections
Index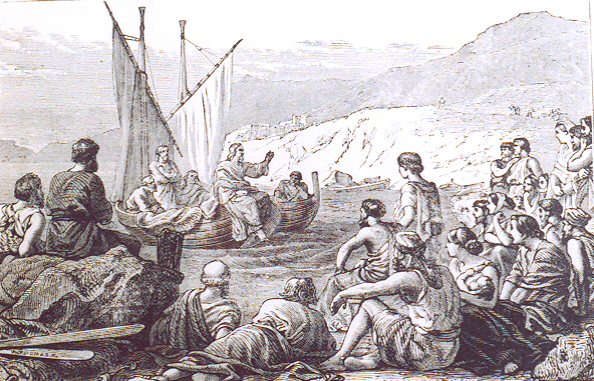 Jesus Christ, the divine Son of God, announced his Father's eternal kingdom and told us that while no one has ever seen the Father, we do His will when we follow the message Jesus preached.
The four Bible accounts of Jesus' life called the Gospels contain his message as he completed his mission for our redemption. It is right and proper to reflect upon the meaning of Christ's message to deepen our understanding and strive to live the will of the Father in our life.
The Biblical readings of the Church's liturgy are grouped into three one-year cycles - A, B and C. Each new cycle begins on the first Sunday of Advent which marks the beginning of the new Church year four Sundays prior to the solemn feast of Christmas. These cycles permit the faithful to become more familiar with the messages of the inspired texts and allows the Church to explain the saving role of Jesus Christ in our lives more effectively.
Cycle A 2004-2005
Matthew
26:4-27:66 03/20/05 - 6th Sunday of Lent (Palm Sunday of the Lord's Passion)
John
20:01-09 03/27/05 - Easter Sunday (The Resurrection of the Lord)
20:19-31 04/03/05 - 2nd Sunday of Easter (Divine Mercy Sunday)
Luke
24:13-25 04/10/05 - 3rd Sunday of Easter
John
14:01-12 04/24/05 - 5th Sunday of Easter
14:15-21 05/01/05 - 6th Sunday of Easter
17:1-11a 05/08/05 - 7th Sunday of Easter
20:19-23 05/15/05 - Pentecost Sunday
03:16-18 05/22/05 - Solemnity of the Most Holy Trinity
06:51-58 05/29/05 - Solemnity of the Most Holy Body and Blood of Christ (Corpus Christi)
Matthew
09:09-13 06/05/05 - 10th Sunday Ordinary Time
9:36-10:8 06/12/05 - 11th Sunday Ordinary Time
10:26-33 06/19/05 - 12th Sunday Ordinary Time
10:37-42 06/26/05 - 13th Sunday Ordinary Time
11:25-30 07/03/05 - 14th Sunday Ordinary Time
13:01-09 07/10/05 - 15th Sunday Ordinary Time
13:24-43 07/17/05 - 16th Sunday Ordinary Time
13:44-52 07/24/05 - 17th Sunday Ordinary Time
14:13-21 07/31/05 - 18th Sunday Ordinary Time
14:22-23 08/07/05 - 19th Sunday Ordinary Time
15:21-28 08/14/05 - 20th Sunday Ordinary Time
16:13-20 08/21/05 - 21st Sunday Ordinary Time
16:21-27 08/28/05 - 22nd Sunday Ordinary Time
18:15-20 09/04/05 - 23rd Sunday Ordinary Time
18:21-35 09/11/05 - 24th Sunday Ordinary Time
20:01-16 09/18/05 - 25th Sunday Ordinary Time
21:28-32 09/25/05 - 26th Sunday Ordinary Time
21:33-43 10/02/05 - 27th Sunday Ordinary Time
22:01-14 10/09/05 - 28th Sunday Ordinary Time
22:15-21 10/16/05 - 29th Sunday Ordinary Time
22:34-40 10/23/05 - 30th Sunday Ordinary Time
23:01-12 10/30/05 - 31st Sunday Ordinary Time
25:14-30 11/13/05 - 33rd Sunday Ordinary Time
25:31-46 11/20/05 - 34th Sunday Ordinary Time (Solemnity of Our Lord Jesus Christ the King)

Home Page
Top

Cycle B 2005-2006
Mark
13:33-37 11/27/05 - First Sunday of Advent
01:01-08 12/04/05 - Second Sunday of Advent
John
01:06-08 12/11/05 - Third Sunday of Advent
Luke
01:26-38 12/18/05 - Fourth Sunday of Advent
John
01:01-18 12/25/05 - Christmas Day (Nativity of the Lord)
Matthew
02:01-12 01/08/06 - Epiphany of the Lord
John
01:35-42 01/15/06 - 2nd Sunday Ordinary Time
Mark
01:14-20 01/22/06 - 3rd Sunday Ordinary Time
01:21-28 01/29/06 - 4th Sunday Ordinary Time
01:29-39 02/05/06 - 5th Sunday Ordinary Time
01:40-45 02/12/06 - 6th Sunday Ordinary Time
01:01-12 02/19/06 - 7th Sunday Ordinary Time
02:18-22 02/26/06 - 8th Sunday Ordinary Time
01:12-15 03/05/06 - 1st Sunday of Lent
09:02-10 03/12/06 - 2nd Sunday of Lent
John
02:13-25 03/19/06 - 3rd Sunday of Lent
03:14-21 03/26/06 - 4th Sunday of Lent
12:20-33 04/02/06 - 5th Sunday of Lent
Mark
14:01-15:47 04/09/06 - Palm Sunday of the Lord's Passion
John
20:01-09 04/16/06 - Easter Sunday (The Resurrection of the Lord)
20:19-31 04/23/06 - 2nd Sunday of Easter (Divine Mercy Sunday)
Luke
24:35-48 04/30/06 - 3rd Sunday of Easter
John
10:11-18 05/07/06 - 4th Sunday of Easter
15:01-08 05/14/06 - 5th Sunday of Easter
15:09-17 05/21/06 - 6th Sunday of Easter
17:11b-19 05/28/06 - 7th Sunday of Easter
15:26-27, 16:12-15 06/04/06 - Pentecost Sunday
Matthew
28:16-20 06/11/06 - Solemnity of the Most Holy Trinity
Mark
14:12-16, 22-26 06/18/06 - Solemnity of the Most Holy Body and Blood of Christ (Corpus Christi)
04:35-41 06/25/06 - 12th Sunday Ordinary Time
05:21-43 07/02/06 - 13th Sunday Ordinary Time
06:01-06 07/09/06 - 14th Sunday Ordinary Time
06:07-13 07/15/06 - 15th Sunday Ordinary Time
06:30-34 07/23/06 - 16th Sunday Ordinary Time
John
06:01-15 07/30/06 - 17th Sunday Ordinary Time
Mark
09:02-10 08/06/06 - The Transfiguration of the Lord
John
06:41-51 08/13/06 - 19th Sunday Ordinary Time
06:51-58 08/20/06 - 20th Sunday Ordinary Time
06:60-69 08/27/06 - 21st Sunday Ordinary Time
Mark
07:01-08, 14-15, 21-23 09/03/06 - 22nd Sunday Ordinary Time
07:31-37 09/10/06 - 23rd Sunday Ordinary Time
08:27-35 09/17/06 - 24th Sunday Ordinary Time
09:30-37 09/24/06 - 25th Sunday Ordinary Time
09:38-43, 45, 47-48 10/01/06 - 26th Sunday Ordinary Time
10:02-16 10/08/06 - 27th Sunday Ordinary Time
10:17-30 10/15/06 - 28th Sunday Ordinary Time
10:35-45 10/22/06 - 29th Sunday Ordinary Time
10:46-52 10/29/06 - 30th Sunday Ordinary Time
12:28b-34 11/05/06 - 31st Sunday Ordinary Time
12:38-44 11/12/06 - 32nd Sunday Ordinary Time
13:24-32 11/19/06 - 33rd Sunday Ordinary Time
John
18:33-37 11/26/06 - 34th Sunday Ordinary Time (Solemnity of Our Lord Christ the King)
Home Page
Top

Cycle C 2006-2007
Luke
21:25-28, 34-36 12/03/06 - 1st Sunday of Advent
03:01-06 12/10/06 - 2nd Sunday of Advent
03:10-18 12/17/06 - 3rd Sunday of Advent
01:39-45 12/24/06 - 4th Sunday of Advent
Matthew
02:01-12 01/07/07 - The Epiphany of the Lord
John
02:01-11 01/14/07 - 2nd Sunday Ordinary Time
Luke
01:01-04: 04:14-21 01/21/07 - 3rd Sunday Ordinary Time
04:21-30 01/28/07 - 4th Sunday Ordinary Time
06:17, 20-26 02/11/07 - 6th Sunday Ordinary Time
06:27-38 02/18/07 - 7th Sunday Ordinary Time
04:01-13 02/25/07 - 1st Sunday of Lent
09:28b-36 03/04/07 - 2nd Sunday of Lent
03:01-09 03/11/07 - 3rd Sunday of Lent
15:01-03, 11-32 03/18/07 - 4th Sunday of Lent
John
08:01-11 03/25/07 - 5th Sunday of Lent
Luke
22:14- 23:56 or 23:1-49 04/01/07 - Palm Sunday of the Lord's Passion
John
20:01-09 04/08/07 - Easter Sunday (The Resurrection of the Lord)
20:19-31 04/15/07 - 2nd Sunday of Easter (Divine Mercy Sunday)
21:01-19 04/22/07 - 3rd Sunday of Easter
10:27-30 04/29/07 - 4th Sunday of Easter
13:31-33a, 34-35 05/06/07 - 5th Sunday of Easter
14:23-29 05/03/07 - 6th Sunday of Easter
Luke
24:46-53 05/20/07 - 7th Sunday of Easter
John
14:15-16, 23-26 05/27/07 - Pentecost Sunday
16:12-15 06/03/07 - Solemnity of the Most Holy Trinity
Luke
09:11b-17 06/10/07 - Solemnity of the Most Holy Body and Blood of Christ (Corpus Christi)
07:36-8:3 06/17/07 - 11th Sunday Ordinary Time
01:57-66, 80 06/24/07 - Solemnity of the Nativity of St. John the Baptist
09:51-62 07/01/07 - 13th Sunday Ordinary Time
10:1-12, 17-20 07/08/07 - 14th Sunday Ordinary Time
10:25-37 07/15/07 - 15th Sunday Ordinary Time
10:38-42 07/22/07 - 16th Sunday Ordinary Time
11:01-13 07/29/07 - 17th Sunday Ordinary Time
12:13-21 08/05/07 - 18th Sunday Ordinary Time
12:32-48 08/12/07 - 19th Sunday Ordinary Time
12:49-53 08/19/07 - 20th Sunday Ordinary Time
13:22-30 08/26/07 - 21st Sunday Ordinary Time
14:1, 7-14 09/02/07 - 22nd Sunday Ordinary Time
14:25-33 09/09/07 - 23rd Sunday Ordinary Time
15:11-32 09/16/07 - 24th Sunday Ordinary Time
16:01-13 09/23/07 - 25th Sunday Ordinary Time
16:19-31 09/30/07 - 26th Sunday Ordinary Time
17:05-10 10/07/07 - 27th Sunday Ordinary Time
17:11-19 10/14/07 - 28th Sunday Ordinary Time
18:01-08 10/21/07 - 29th Sunday Ordinary Time
18:09-14 10/28/07 - 30th Sunday Ordinary Time
19:01-10 11/04/07 - 31st Sunday Ordinary Time
20:27, 34-38 11/11/07 - 32nd Sunday Ordinary Time
21:05-19 11/18/07 - 33rd Sunday Ordinary Time
23:34-43 11/25/07 - 34th Sunday Ordinary Time (Solemnity of Our Lord Christ the King)
Home Page
Top

Cycle A 2007-2008
Matthew
24:37-44 12/02/07 - 1st Sunday of Advent
03:01-12 12/09/07 - 2nd Sunday of Advent
11:02-11 12/16/07 - 3rd Sunday of Advent
01:18-24 12/23/07 - 4th Sunday of Advent
03:13-17 01/13/08 - Baptism of the Lord
John
01:29-34 01/20/08 - 2nd Sunday Ordinary Time
Matthew
04:12-23 01/27/08 - 3rd Sunday Ordinary Time
05:01-12a 02/03/08 - 4th Sunday Ordinary Time
04:01-11 02/10/08 - 1st Sunday of Lent
17:01-09 02/17/08 - 2nd Sunday of Lent
John
04:05-15, 19b-26, 02/24/08 - 3rd Sunday of Lent
39a, 40-42
9:1, 6-9, 13-17, 03/02/08 - 4th Sunday of Lent
34-38
11:01-45 03/09/08 - 5th Sunday of Lent
Matthew
26:14-27:66 03/16/08 - Palm Sunday of the Lord's Passion
John
20:01-09ACycle 03/23/08 - Easter Sunday (Resurrection of Our Lord)
20:19-31 03/30/08 - 2nd Sunday of Easter (Divine Mercy Sunday)
Luke
24:13-35 04/06/08 - 3rd Sunday of Easter
John
10:01-10 04/13/08 - 4th Sunday of Easter
14:01-12 04/20/08 - 5th Sunday of Easter
14:15-21 04/27/08 - 6th Sunday of Easter
Matthew
28:16-20 05/04/08 - 7th Sunday of Easter (The Ascension of the Lord)
John
20:19-23 05/11/08 - Pentecost Sunday
03:16-18 05/18/08 - Solemnity of the Most Holy Trinity
06:51-58 05/25/08 - Solemnity of the Most Holy Body and Blood of Christ (Corpus Christi)
Matthew
07:21-27 06/01/08 - 9th Sunday in Ordinary Time
09:09-13 06/08/08 - 10th Sunday in Ordinary Time
09:36-10:8 06/15/08 - 11th Sunday in Ordinary Time
10:26-33 06/22/08 - 12th Sunday in Ordinary Time
16:13-19 06/29/08 - Solemnity of St. Peter, & St. Paul, Apostles
11:25-30 07/06/08 - 14th Sunday in Ordinary Time
13:01-23 07/13/08 - 15th Sunday in Ordinary Time
13:24-43 07/20/08 - 16th Sunday in Ordinary Time
13:44-52 07/27/08 - 17th Sunday in Ordinary Time
14:13-21 08/03/08 - 18th Sunday in Ordinary Time
14:22-33 08/10/08 - 19th Sunday in Ordinary Time
15:21-28 08/17/08 - 20th Sunday in Ordinary Time
16:13-20 08/24/08 - 21st Sunday in Ordinary Time
16:21-27 08/31/08 - 22nd Sunday in Ordinary Time
18:15-20 09/07/08 - 23rd Sunday in Ordinary Time
John
03:13-17 09/14/08 - The Exaltation of the Holy Cross
Matthew
20:1-16a 09/21/08 - 25th Sunday in Ordinary Time
21:28-32 09/27/08 - 26th Sunday in Ordinary Time
21:33-43 10/05/08 - 27th Sunday in Ordinary Time
22:01-14 10/12/08 - 28th Sunday in Ordinary Time
22:15-21 10/19/08 - 29th Sunday in Ordinary Time
22:34-40 10/26/08 - 30th Sunday in Ordinary Time
John
06:37-40 11/02/08 - Commemoration of All the Faithful Departed - All Souls
02:13-22 11/09/08 - Dedication of the Lateran Basilica in Rome
Matthew
25:14-30 11/16/08 - 33rd Sunday in Ordinary Time
25:31-46 11/23/08 - Solemnity of Our Lord Jesus Christ the King

Home Page
Top

Cycle B 2008-2009
Mark
13:33-37 11/30/08 - 1st Sunday of Advent
01:01/08 12/07/08 - 2nd Sunday of Advent
John
1:6-8, 19-28 12/14/08 - 3rd Sunday of Advent
Luke
01:26-38 12/21/08 - 4th Sunday of Advent
02:22-40 12/28/08 - The Holy Family of Jesus, Mary, and Joseph
Mark
01:07-11 01/11/09 - The Baptism of the Lord
John
01:35-42 01/18/09 - 2nd Sunday in Ordinary Time
Mark
01:14-20 01/25/09 - 3rd Sunday in Ordinary Time
01:21-28 02/01/09 - 4th Sunday in Ordinary Time
01:29-39 02/08/09 - 5th Sunday in Ordinary Time
01:40-50 02/15/09 - 6th Sunday in Ordinary Time
02:01-12 02/22/09 - 7th Sunday in Ordinary Time
01:12-15 03/01/09 - 1st Sunday of Lent
09:02-10 03/08/09 - 2nd Sunday of Lent
John
02:13-25 03/15/09 - 3rd Sunday of Lent
03:14-21 03/22/09 - 4th Sunday of Lent
12:20-33 03/29/09 - 5th Sunday of Lent
Mark
14:1-15:47 04/05/09 - Palm Sunday of the Lord's Passion
John, Mark, Luke 04/12/09
20:1-09, 16:01-07, 24:13-25 - Easter Sunday The Resurrection of the Lord
John
20:19-31 04/19/09 - 2nd Sunday of Easter or Divine Mercy Sunday
Luke
24:35-48 04/26/09 - 3rd Sunday of Easter
John
10:11-18 05/03/09 - 4th Sunday of Easter
15:01-08 05/10/09 - 5th Sunday of Easter
15:09-17 05/17/09 - 6th Sunday of Easter
Mark
16:15-20 05/24/09 - Feast of the Ascension of the Lord
John
15:26-27, 16:12-15 05/31/09 - Pentecost Sunday
Matthew
28:16-20 06/07/09 - Trinity Sunday
Mark
14:12-16, 22-26 06/14/09 - Solemnity of the Most Holy Body and Blood of Christ (Corpus Christi)
04:35-41 06/21/09 - 12th Sunday in Ordinary Time
05:21-43 06/28/09 - 13th Sunday in Ordinary Time
06:01-06 07/05/09 - 14th Sunday in Ordinary Time
06:07-13 07/12/09 - 15th Sunday in Ordinary Time
06:30-34 07/19/09 - 16th Sunday in Ordinary Time
John
06:01-15 07/26/09 - 17th Sunday in Ordinary Time
06:24-35 08/02/09 - 18th Sunday in Ordinary Time
06:41-51 08/09/09 - 19th Sunday in Ordinary Time
06:51-58 08/16/09 - 20th Sunday in Ordinary Time
06:60-69 08/23/09 - 21st Sunday in Ordinary Time
Mark
07:1-8, 14-15, 21-23 08/30/09 - 22nd Sunday in Ordinary Time
07:31-37 09/06/09 - 23rd Sunday in Ordinary Time
08:27-35 09/13/09 - 24th Sunday in Ordinary Time
09:30-37 09/20/09 - 25th Sunday in Ordinary Time
09:38-43, 45, 47-48 09/27/09 - 26th Sunday in Ordinary Time
10:02-16 10/04/09 - 27th Sunday in Ordinary Time
10:17-30 10/11/09 - 28th Sunday in Ordinary Time
10:35-45 10/18/09 - 29th Sunday in Ordinary Time
10:46-52 10/25/09 - 30th Sunday in Ordinary Time
Matthew
05:01-12a 11/01/09 - Solemnity of All Saints
Mark
12:38-44 11/08/09 - 32nd Sunday in Ordinary Time
13:24-32 11/15/09 - 33rd Sunday in Ordinary Time
John
18:33b-37 11/22/09 - Solemnity of Our Lord Jesus Christ the King

Top
Home Page
Cycle C 2009 - 2010
Luke
21:25-28, 34-36 11/29/09 - 1st Sunday of Advent
03:01-06 12/06/09 - 2nd Sunday of Advent
03:10-18 12/13/09 - 3rd Sunday of Advent
01:39-45 12/20/09 - 4th Sunday of Advent
02:41-52 12/27/09 - The Holy Family of Jesus, Mary, and Joseph
03:15-16, 21-22 01/10/10 - The Baptism of the Lord
John
02:01-11 01/17/10 - 2nd Sunday in Ordinary Time
Luke
01:1-4;4:14-21 01/24/10 - 3rd Sunday in Ordinary Time
04:21-30 01/31/10 - 4th Sunday in Ordinary Time
06:17, 20-26 02/14/10 - 6th Sunday in Ordinary Time
04:01-13 02/21/10 - 1st Sunday of Lent
09:28-36 02/28/10 - 2nd Sunday of Lent
13:01-09 03/07/10 - 3rd Sunday of Lent
15:1-3, 11-32 03/14/10 - 4th Sunday of Lent
John
08:01-11 03/21/10 - 5th Sunday of Lent
20:01-09 04/03/10 - Easter Sunday Morning
21:01-19 04/18/10 - 3rd Sunday of Easter
10:27-30 04/25/10 - 4th Sunday of Easter
13:33a,34-35 05/02/10 - 5th Sunday of Easter
14:23-29 05/09/10 - 6th Sunday of Easter
Luke
24:46-53 05/16/10 - Ascension of the Lord
John
14:15-16, 23B-26 05/23/10 - Pentecost Sunday
16:12-15 05/30/10 - Solemnity of the Most Holy Trinity
Luke
09:11B-17 06/06/10 - Solemnity of the Most Holy Body and Blood of Christ
07:36,8:3 06/13/10 - 11th Sunday in Ordinary Time
09:18-24 06/20/10 - 12th Sunday in Ordinary Time
10:1-12,17-20 07/04/10 - 14th Sunday in Ordinary Time
10:25-37 07/11/10 - 15th Sunday in Ordinary Time
10:38-42 07/18/10 - 16th Sunday in Ordinary Time
11:01-13 07/25/10 - 17th Sunday in Ordinary Time
12:13-21 08/01/10 - 18th Sunday in Ordinary Time
12:32-48 08/08/10 - 19th Sunday in Ordinary Time
01:39-56 08/15/10 - Solemnity of the Assumption of the Most Blessed Virgin Mary
13:22-30 08/22/10 - 21st Sunday in Ordinary Time
14:1,07-14 08/29/10 - 22nd Sunday in Ordinary Time
14:25-33 09/05/10 - 23rd Sunday in Ordinary Time
15:01-32 09/12/10 - 24th Sunday in Ordinary Time
16:01-13 09/19/10 - 25th Sunday in Ordinary Time
16:19-31 09/26/10 - 26th Sunday in Ordinary Time
17:05-10 10/03/10 - 27th Sunday in Ordinary Time
17:11-19 10/10/10 - 28th Sunday in Ordinary Time
18:01-08 10/17/10 - 29th Sunday in Ordinary Time
18:09-14 10/24/10 - 30th Sunday in Ordinary Time
19:01-10 10/31/10 - 31st Sunday in Ordinary Time
20:27-38 11/07/10 - 32nd Sunday in Ordinary Time
21:05-19 11/14/10 - 33rd Sunday in Ordinary Time
23:35-43 11/21/10 - Solemnity of Our Lord Jesus Christ the King


Cycle B 2005-2006
Mark
13:33-37 11/27/05 - First Sunday of Advent
01:01-08 12/04/05 - Second Sunday of Advent
John
01:06-08 12/11/05 - Third Sunday of Advent
Luke
01:26-38 12/18/05 - Fourth Sunday of Advent
John
01:01-18 12/25/05 - Christmas Day (Nativity of the Lord)
Matthew
02:01-12 01/08/06 - Epiphany of the Lord
John
01:35-42 01/15/06 - 2nd Sunday Ordinary Time
Mark
01:14-20 01/22/06 - 3rd Sunday Ordinary Time
01:21-28 01/29/06 - 4th Sunday Ordinary Time
01:29-39 02/05/06 - 5th Sunday Ordinary Time
01:40-45 02/12/06 - 6th Sunday Ordinary Time
01:01-12 02/19/06 - 7th Sunday Ordinary Time
02:18-22 02/26/06 - 8th Sunday Ordinary Time
01:12-15 03/05/06 - 1st Sunday of Lent
09:02-10 03/12/06 - 2nd Sunday of Lent
John
02:13-25 03/19/06 - 3rd Sunday of Lent
03:14-21 03/26/06 - 4th Sunday of Lent
12:20-33 04/02/06 - 5th Sunday of Lent
Mark
14:01-15:47 04/09/06 - Palm Sunday of the Lord's Passion
John
20:01-09 04/16/06 - Easter Sunday (The Resurrection of the Lord)
20:19-31 04/23/06 - 2nd Sunday of Easter (Divine Mercy Sunday)
Luke
24:35-48 04/30/06 - 3rd Sunday of Easter
John
10:11-18 05/07/06 - 4th Sunday of Easter
15:01-08 05/14/06 - 5th Sunday of Easter
15:09-17 05/21/06 - 6th Sunday of Easter
17:11b-19 05/28/06 - 7th Sunday of Easter
15:26-27, 16:12-15 06/04/06 - Pentecost Sunday
Matthew
28:16-20 06/11/06 - Solemnity of the Most Holy Trinity
Mark
14:12-16, 22-26 06/18/06 - Solemnity of the Most Holy Body and Blood of Christ (Corpus Christi)
04:35-41 06/25/06 - 12th Sunday Ordinary Time
05:21-43 07/02/06 - 13th Sunday Ordinary Time
06:01-06 07/09/06 - 14th Sunday Ordinary Time
06:07-13 07/15/06 - 15th Sunday Ordinary Time
06:30-34 07/23/06 - 16th Sunday Ordinary Time
John
06:01-15 07/30/06 - 17th Sunday Ordinary Time
Mark
09:02-10 08/06/06 - The Transfiguration of the Lord
John
06:41-51 08/13/06 - 19th Sunday Ordinary Time
06:51-58 08/20/06 - 20th Sunday Ordinary Time
06:60-69 08/27/06 - 21st Sunday Ordinary Time
Mark
07:01-08, 14-15, 21-23 09/03/06 - 22nd Sunday Ordinary Time
07:31-37 09/10/06 - 23rd Sunday Ordinary Time
08:27-35 09/17/06 - 24th Sunday Ordinary Time
09:30-37 09/24/06 - 25th Sunday Ordinary Time
09:38-43, 45, 47-48 10/01/06 - 26th Sunday Ordinary Time
10:02-16 10/08/06 - 27th Sunday Ordinary Time
10:17-30 10/15/06 - 28th Sunday Ordinary Time
10:35-45 10/22/06 - 29th Sunday Ordinary Time
10:46-52 10/29/06 - 30th Sunday Ordinary Time
12:28b-34 11/05/06 - 31st Sunday Ordinary Time
12:38-44 11/12/06 - 32nd Sunday Ordinary Time
13:24-32 11/19/06 - 33rd Sunday Ordinary Time
John
18:33-37 11/26/06 - 34th Sunday Ordinary Time (Solemnity of Our Lord Christ the King)
Home Page
Top

Cycle C 2006-2007
Luke
21:25-28, 34-36 12/03/06 - 1st Sunday of Advent
03:01-06 12/10/06 - 2nd Sunday of Advent
03:10-18 12/17/06 - 3rd Sunday of Advent
01:39-45 12/24/06 - 4th Sunday of Advent
Matthew
02:01-12 01/07/07 - The Epiphany of the Lord
John
02:01-11 01/14/07 - 2nd Sunday Ordinary Time
Luke
01:01-04: 04:14-21 01/21/07 - 3rd Sunday Ordinary Time
04:21-30 01/28/07 - 4th Sunday Ordinary Time
06:17, 20-26 02/11/07 - 6th Sunday Ordinary Time
06:27-38 02/18/07 - 7th Sunday Ordinary Time
04:01-13 02/25/07 - 1st Sunday of Lent
09:28b-36 03/04/07 - 2nd Sunday of Lent
03:01-09 03/11/07 - 3rd Sunday of Lent
15:01-03, 11-32 03/18/07 - 4th Sunday of Lent
John
08:01-11 03/25/07 - 5th Sunday of Lent
Luke
22:14- 23:56 or 23:1-49 04/01/07 - Palm Sunday of the Lord's Passion
John
20:01-09 04/08/07 - Easter Sunday (The Resurrection of the Lord)
20:19-31 04/15/07 - 2nd Sunday of Easter (Divine Mercy Sunday)
21:01-19 04/22/07 - 3rd Sunday of Easter
10:27-30 04/29/07 - 4th Sunday of Easter
13:31-33a, 34-35 05/06/07 - 5th Sunday of Easter
14:23-29 05/03/07 - 6th Sunday of Easter
Luke
24:46-53 05/20/07 - 7th Sunday of Easter
John
14:15-16, 23-26 05/27/07 - Pentecost Sunday
16:12-15 06/03/07 - Solemnity of the Most Holy Trinity
Luke
09:11b-17 06/10/07 - Solemnity of the Most Holy Body and Blood of Christ (Corpus Christi)
07:36-8:3 06/17/07 - 11th Sunday Ordinary Time
01:57-66, 80 06/24/07 - Solemnity of the Nativity of St. John the Baptist
09:51-62 07/01/07 - 13th Sunday Ordinary Time
10:1-12, 17-20 07/08/07 - 14th Sunday Ordinary Time
10:25-37 07/15/07 - 15th Sunday Ordinary Time
10:38-42 07/22/07 - 16th Sunday Ordinary Time
11:01-13 07/29/07 - 17th Sunday Ordinary Time
12:13-21 08/05/07 - 18th Sunday Ordinary Time
12:32-48 08/12/07 - 19th Sunday Ordinary Time
12:49-53 08/19/07 - 20th Sunday Ordinary Time
13:22-30 08/26/07 - 21st Sunday Ordinary Time
14:1, 7-14 09/02/07 - 22nd Sunday Ordinary Time
14:25-33 09/09/07 - 23rd Sunday Ordinary Time
15:11-32 09/16/07 - 24th Sunday Ordinary Time
16:01-13 09/23/07 - 25th Sunday Ordinary Time
16:19-31 09/30/07 - 26th Sunday Ordinary Time
17:05-10 10/07/07 - 27th Sunday Ordinary Time
17:11-19 10/14/07 - 28th Sunday Ordinary Time
18:01-08 10/21/07 - 29th Sunday Ordinary Time
18:09-14 10/28/07 - 30th Sunday Ordinary Time
19:01-10 11/04/07 - 31st Sunday Ordinary Time
20:27, 34-38 11/11/07 - 32nd Sunday Ordinary Time
21:05-19 11/18/07 - 33rd Sunday Ordinary Time
23:34-43 11/25/07 - 34th Sunday Ordinary Time (Solemnity of Our Lord Christ the King)
Home Page
Top

Cycle A 2007-2008
Matthew
24:37-44 12/02/07 - 1st Sunday of Advent
03:01-12 12/09/07 - 2nd Sunday of Advent
11:02-11 12/16/07 - 3rd Sunday of Advent
01:18-24 12/23/07 - 4th Sunday of Advent
03:13-17 01/13/08 - Baptism of the Lord
John
01:29-34 01/20/08 - 2nd Sunday Ordinary Time
Matthew
04:12-23 01/27/08 - 3rd Sunday Ordinary Time
05:01-12a 02/03/08 - 4th Sunday Ordinary Time
04:01-11 02/10/08 - 1st Sunday of Lent
17:01-09 02/17/08 - 2nd Sunday of Lent
John
04:05-15, 19b-26, 02/24/08 - 3rd Sunday of Lent
39a, 40-42
9:1, 6-9, 13-17, 03/02/08 - 4th Sunday of Lent
34-38
11:01-45 03/09/08 - 5th Sunday of Lent
Matthew
26:14-27:66 03/16/08 - Palm Sunday of the Lord's Passion
John
20:01-09ACycle 03/23/08 - Easter Sunday (Resurrection of Our Lord)
20:19-31 03/30/08 - 2nd Sunday of Easter (Divine Mercy Sunday)
Luke
24:13-35 04/06/08 - 3rd Sunday of Easter
John
10:01-10 04/13/08 - 4th Sunday of Easter
14:01-12 04/20/08 - 5th Sunday of Easter
14:15-21 04/27/08 - 6th Sunday of Easter
Matthew
28:16-20 05/04/08 - 7th Sunday of Easter (The Ascension of the Lord)
John
20:19-23 05/11/08 - Pentecost Sunday
03:16-18 05/18/08 - Solemnity of the Most Holy Trinity
06:51-58 05/25/08 - Solemnity of the Most Holy Body and Blood of Christ (Corpus Christi)
Matthew
07:21-27 06/01/08 - 9th Sunday in Ordinary Time
09:09-13 06/08/08 - 10th Sunday in Ordinary Time
09:36-10:8 06/15/08 - 11th Sunday in Ordinary Time
10:26-33 06/22/08 - 12th Sunday in Ordinary Time
16:13-19 06/29/08 - Solemnity of St. Peter, & St. Paul, Apostles
11:25-30 07/06/08 - 14th Sunday in Ordinary Time
13:01-23 07/13/08 - 15th Sunday in Ordinary Time
13:24-43 07/20/08 - 16th Sunday in Ordinary Time
13:44-52 07/27/08 - 17th Sunday in Ordinary Time
14:13-21 08/03/08 - 18th Sunday in Ordinary Time
14:22-33 08/10/08 - 19th Sunday in Ordinary Time
15:21-28 08/17/08 - 20th Sunday in Ordinary Time
16:13-20 08/24/08 - 21st Sunday in Ordinary Time
16:21-27 08/31/08 - 22nd Sunday in Ordinary Time
18:15-20 09/07/08 - 23rd Sunday in Ordinary Time
John
03:13-17 09/14/08 - The Exaltation of the Holy Cross
Matthew
20:1-16a 09/21/08 - 25th Sunday in Ordinary Time
21:28-32 09/27/08 - 26th Sunday in Ordinary Time
21:33-43 10/05/08 - 27th Sunday in Ordinary Time
22:01-14 10/12/08 - 28th Sunday in Ordinary Time
22:15-21 10/19/08 - 29th Sunday in Ordinary Time
22:34-40 10/26/08 - 30th Sunday in Ordinary Time
John
06:37-40 11/02/08 - Commemoration of All the Faithful Departed - All Souls
02:13-22 11/09/08 - Dedication of the Lateran Basilica in Rome
Matthew
25:14-30 11/16/08 - 33rd Sunday in Ordinary Time
25:31-46 11/23/08 - Solemnity of Our Lord Jesus Christ the King

Home Page
Top

Cycle B 2008-2009
Mark
13:33-37 11/30/08 - 1st Sunday of Advent
01:01/08 12/07/08 - 2nd Sunday of Advent
John
1:6-8, 19-28 12/14/08 - 3rd Sunday of Advent
Luke
01:26-38 12/21/08 - 4th Sunday of Advent
02:22-40 12/28/08 - The Holy Family of Jesus, Mary, and Joseph
Mark
01:07-11 01/11/09 - The Baptism of the Lord
John
01:35-42 01/18/09 - 2nd Sunday in Ordinary Time
Mark
01:14-20 01/25/09 - 3rd Sunday in Ordinary Time
01:21-28 02/01/09 - 4th Sunday in Ordinary Time
01:29-39 02/08/09 - 5th Sunday in Ordinary Time
01:40-50 02/15/09 - 6th Sunday in Ordinary Time
02:01-12 02/22/09 - 7th Sunday in Ordinary Time
01:12-15 03/01/09 - 1st Sunday of Lent
09:02-10 03/08/09 - 2nd Sunday of Lent
John
02:13-25 03/15/09 - 3rd Sunday of Lent
03:14-21 03/22/09 - 4th Sunday of Lent
12:20-33 03/29/09 - 5th Sunday of Lent
Mark
14:1-15:47 04/05/09 - Palm Sunday of the Lord's Passion
John, Mark, Luke 04/12/09
20:1-09, 16:01-07, 24:13-25 - Easter Sunday The Resurrection of the Lord
John
20:19-31 04/19/09 - 2nd Sunday of Easter or Divine Mercy Sunday
Luke
24:35-48 04/26/09 - 3rd Sunday of Easter
John
10:11-18 05/03/09 - 4th Sunday of Easter
15:01-08 05/10/09 - 5th Sunday of Easter
15:09-17 05/17/09 - 6th Sunday of Easter
Mark
16:15-20 05/24/09 - Feast of the Ascension of the Lord
John
15:26-27, 16:12-15 05/31/09 - Pentecost Sunday
Matthew
28:16-20 06/07/09 - Trinity Sunday
Mark
14:12-16, 22-26 06/14/09 - Solemnity of the Most Holy Body and Blood of Christ (Corpus Christi)
04:35-41 06/21/09 - 12th Sunday in Ordinary Time
05:21-43 06/28/09 - 13th Sunday in Ordinary Time
06:01-06 07/05/09 - 14th Sunday in Ordinary Time
06:07-13 07/12/09 - 15th Sunday in Ordinary Time
06:30-34 07/19/09 - 16th Sunday in Ordinary Time
John
06:01-15 07/26/09 - 17th Sunday in Ordinary Time
06:24-35 08/02/09 - 18th Sunday in Ordinary Time
06:41-51 08/09/09 - 19th Sunday in Ordinary Time
06:51-58 08/16/09 - 20th Sunday in Ordinary Time
06:60-69 08/23/09 - 21st Sunday in Ordinary Time
Mark
07:1-8, 14-15, 21-23 08/30/09 - 22nd Sunday in Ordinary Time
07:31-37 09/06/09 - 23rd Sunday in Ordinary Time
08:27-35 09/13/09 - 24th Sunday in Ordinary Time
09:30-37 09/20/09 - 25th Sunday in Ordinary Time
09:38-43, 45, 47-48 09/27/09 - 26th Sunday in Ordinary Time
10:02-16 10/04/09 - 27th Sunday in Ordinary Time
10:17-30 10/11/09 - 28th Sunday in Ordinary Time
10:35-45 10/18/09 - 29th Sunday in Ordinary Time
10:46-52 10/25/09 - 30th Sunday in Ordinary Time
Matthew
05:01-12a 11/01/09 - Solemnity of All Saints
Mark
12:38-44 11/08/09 - 32nd Sunday in Ordinary Time
13:24-32 11/15/09 - 33rd Sunday in Ordinary Time
John
18:33b-37 11/22/09 - Solemnity of Our Lord Jesus Christ the King

Top
Home Page
Cycle C 2009 - 2010
Luke
21:25-28, 34-36 11/29/09 - 1st Sunday of Advent
03:01-06 12/06/09 - 2nd Sunday of Advent
03:10-18 12/13/09 - 3rd Sunday of Advent
01:39-45 12/20/09 - 4th Sunday of Advent
02:41-52 12/27/09 - The Holy Family of Jesus, Mary, and Joseph
03:15-16, 21-22 01/10/10 - The Baptism of the Lord
John
02:01-11 01/17/10 - 2nd Sunday in Ordinary Time
Luke
01:1-4;4:14-21 01/24/10 - 3rd Sunday in Ordinary Time
04:21-30 01/31/10 - 4th Sunday in Ordinary Time
06:17, 20-26 02/14/10 - 6th Sunday in Ordinary Time
04:01-13 02/21/10 - 1st Sunday of Lent
09:28-36 02/28/10 - 2nd Sunday of Lent
13:01-09 03/07/10 - 3rd Sunday of Lent
15:1-3, 11-32 03/14/10 - 4th Sunday of Lent
John
08:01-11 03/21/10 - 5th Sunday of Lent
20:01-09 04/03/10 - Easter Sunday Morning
21:01-19 04/18/10 - 3rd Sunday of Easter
10:27-30 04/25/10 - 4th Sunday of Easter
13:33a,34-35 05/02/10 - 5th Sunday of Easter
14:23-29 05/09/10 - 6th Sunday of Easter
Luke
24:46-53 05/16/10 - Ascension of the Lord
John
14:15-16, 23B-26 05/23/10 - Pentecost Sunday
16:12-15 05/30/10 - Solemnity of the Most Holy Trinity
Luke
09:11B-17 06/06/10 - Solemnity of the Most Holy Body and Blood of Christ
07:36,8:3 06/13/10 - 11th Sunday in Ordinary Time
09:18-24 06/20/10 - 12th Sunday in Ordinary Time
10:1-12,17-20 07/04/10 - 14th Sunday in Ordinary Time
10:25-37 07/11/10 - 15th Sunday in Ordinary Time
10:38-42 07/18/10 - 16th Sunday in Ordinary Time
11:01-13 07/25/10 - 17th Sunday in Ordinary Time
12:13-21 08/01/10 - 18th Sunday in Ordinary Time
12:32-48 08/08/10 - 19th Sunday in Ordinary Time
01:39-56 08/15/10 - Solemnity of the Assumption of the Most Blessed Virgin Mary
13:22-30 08/22/10 - 21st Sunday in Ordinary Time
14:1,07-14 08/29/10 - 22nd Sunday in Ordinary Time
14:25-33 09/05/10 - 23rd Sunday in Ordinary Time
15:01-32 09/12/10 - 24th Sunday in Ordinary Time
16:01-13 09/19/10 - 25th Sunday in Ordinary Time
16:19-31 09/26/10 - 26th Sunday in Ordinary Time
17:05-10 10/03/10 - 27th Sunday in Ordinary Time
17:11-19 10/10/10 - 28th Sunday in Ordinary Time
18:01-08 10/17/10 - 29th Sunday in Ordinary Time
18:09-14 10/24/10 - 30th Sunday in Ordinary Time
19:01-10 10/31/10 - 31st Sunday in Ordinary Time
20:27-38 11/07/10 - 32nd Sunday in Ordinary Time
21:05-19 11/14/10 - 33rd Sunday in Ordinary Time
23:35-43 11/21/10 - Solemnity of Our Lord Jesus Christ the King
Home Page
Top

Cycle A 2010-2011
Matthew
24:37-44 11/28/10 - 1st Sunday of Advent
03:01-12 12/05/10 - 2nd Sunday of Advent
11:02-11 12/12/10 - 3rd Sunday of Advent
18:01-24 12/19/10 - 4th Sunday of Advent
02:13-15,19-23 12/26/10 - Feast of the Holy Family of Jesus, Mary, and Joseph
03:13-17 01/09/11 - Feast of the Baptism of the Lord
John
01:29-34 01/16/11 - 2nd Sunday in Ordinary Time
Matthew
04:12-23 01/23/11 - 3rd Sunday in Ordinary Time
05:01-12a 01/30/11 - 4th Sunday in Ordinary Time
05:13-16 02/06/11 - 5th Sunday in Ordinary Time
05:17-37 02/13/11 - 6th Sunday in Ordinary Time
05:38-48 02/20/11 - 7th Sunday in Ordinary Time
06:24-34 02/27/11 - 8th Sunday in Ordinary Time
07:21-27 03/06/11 - 9th Sunday in Ordinary Time
04:01-11 03/13/11 - 1st Sunday of Lent
17:01-09 03/20/11 - 2nd Sunday of Lent
John
04:05-42 03/27/11 - 3rd Sunday of Lent
09:01-41 04/03/11 - 4th Sunday of Lent
11:01-45 04/10/11 - 5th Sunday of Lent
Matthew
26:14-27:66 04/17/11 - Palm Sunday of the Lord's Passion
John
20:01-09 04/24/11 - Easter Sunday The Resurrection of the Lord
20:19-31 05/01/11 - 2nd Sunday of Easter or Divine Mercy Sunday
Luke
24:13-35 05/08/11 - 3rd Sunday of Easter
John
10:01-10 05/15/11 - 4th Sunday of Easter
14:01-12 05/22/11 - 5th Sunday of Easter
14:15-21 05/29/11 - 6th Sunday of Easter
Matthew
28:16-20 06/05/11 - 7th Sunday of Easter
John
20:19-23 06/12/11 - Pentecost Sunday
03:16-18 06/19/11 - Holy Trinity Sunday
06:51-58 06/26/11 - Solemnity of the Body and Blood of Christ (Corpus Christi)
Matthew
11:25-30 07/03/11 - 14th Sunday in Ordinary Time
13:01-23 07/10/11 - 15th Sunday in Ordinary Time
13:24-43 07/17/11 - 16th Sunday in Ordinary Time
13:44-52 07/24/11 - 17th Sunday in Ordinary Time
14:22-33 07/31/11 - 18th Sunday in Ordinary Time
14:22-33 08/07/11 - 19th Sunday in Ordinary Time
15:21-28 08/14/11 - 20th Sunday in Ordinary Time
16:13-20 08/21/11 - 21st Sunday in Ordinary Time
16:21-27 08/28/11 - 22nd Sunday in Ordinary Time
18:15-20 09/04/11 - 23rd Sunday in Ordinary Time
18:21-35 09/11/11 - 24th Sunday in Ordinary Time
20:01-16a 09/18/11 - 25th Sunday in Ordinary Time
21:28-32 09/25/11 - 26th Sunday in Ordinary Time
21:33-43 10/02/11 - 27th Sunday in Ordinary Time
22:01-14 10/09/11 - 28th Sunday in Ordinary Time
22:15-21 10/16/11 - 29th Sunday in Ordinary Time
22:34-40 10/23/11 - 30th Sunday in Ordinary Time
23:01-12 10/30/11 - 31st Sunday in Ordinary Time
25:01-13 11/06/11 - 32nd Sunday in Ordinary Time
25:14-30 11/13/11 - 33rd Sunday in Ordinary Time
25:31-46 11/20/11 - Solemnity of Our Lord Jesus Christ the King
Home Page
Top

Cycle B 2011-2012
Mark
13:33-37 11/27/11 - 1st Sunday of Advent
01:01-08 12/04/11 - 2nd Sunday of Advent
John
01:06-08,19-28 12/11/11 - 3rd Sunday of Advent
Luke
01-26-38 12/18/11 - 4th Sunday of Advent
Matthew
01:01-25 12/25/11 - Solemnity of the Nativity of the Lord, Vigil Mass Evening, December 24th
02:01-12 01/08/12 - Solemnity of the Epiphany of the Lord
John
01-35-42 01/15/12 - 2nd Sunday in Ordinary Time
Mark
01:14-20 01/22/12 - 3rd Sunday in Ordinary Time
01:21-28 01/29/12 - 4th Sunday in Ordinary Time
01:29-39 02/05/12 - 5th Sunday in Ordinary Time
01:40-45 02/12/12 - 6th Sunday in Ordinary Time
02:01-12 02/19/12 - 7th Sunday in Ordinary Time
01:12-15 02/26/12 - 1st Sunday of Lent
09:02-10 03/04/12 - 2nd Sunday of Lent
John
02:13-25 03/11/12 - 3rd Sunday of Lent
03:14-21 03/15/12 - 4th Sunday of Lent
Matthew
21:28-32 03/25/12 - 5th Sunday of Lent
Mark
14:01-15:47 04/01/12 - Palm Sunday of the Passion of the Lord
John
20:01-09 04/08/12 - Easter Sunday of the Resurrection of the Lord
20:19-31 04/15/12 - 2nd Sunday of Easter Divine Mercy Sunday
24:35-48 04/22/12 - 3rd Sunday of Easter
10:11-18 04/29/12 - 4th Sunday of Easter
15:01-08 05/06/12 - 5th Sunday of Easter
15:09-17 05/13/12 - 6th Sunday of Easter
Mark
16:15-20 05/20/12 - Solemnity of the Ascension of the Lord
Matthew
28:16-20 06/03/12 - Solemnity of the Most Holy Trinity
Mark
14:12-16, 22-26 06/10/12 - Solemnity of the Most Holy Body and Blood of Christ (Corpus Christi)
04:26-34 06/17/12 - 11th Sunday in Ordinary Time
Luke
01:57-66,80 06/24/12 - Solemnity of the Nativity of John The Baptist
Mark
05:21-43 07/01/12 - 13th Sunday in Ordinary Time
06:07-13 07/15/12 - 15th Sunday in Ordinary Time
06:30-34 07/22/12 - 16th Sunday in Ordinary Time
John
06:01-15 07/29/12 - 17th Sunday in Ordinary Time
06-24-35 08/05/12 - 18th Sunday in Ordinary Time
06:41-51 08/12/12 - 19th Sunday in Ordinary Time
06:51-58 08/19/12 - 20th Sunday in Ordinary Time
06:60-69 08/26/12 - 21st Sunday in Ordinary Time
Mark
7:1-8,14-15. 21-23 09/02/12 - 22nd Sunday in Ordinary Time
07:31-37 09/09/12 - 23rd Sunday in Ordinary Time
08:27-35 09/16/12 - 24th Sunday in Ordinary Time
09:30-37 09/23/12 - 25th Sunday in Ordinary Time
09:38-43, 45, 47-48 09/30/12 - 26th Sunday in Ordinary Time
10:02-16 10/07/12 - 27th Sunday in Ordinary Time
10:17-30 10/14/12 - 28th Sunday in Ordinary Time
10:35-45 10/21/12 - 29th Sunday in Ordinary Time
10:46-52 10/28/12 - 30th Sunday in Ordinary Time
12:28b-34 11/04/12 - 31st Sunday in Ordinary Time
12:38-44 11/11/12 - 32nd Sunday in Ordinary Time
13:24-32 11/18/12 - 33rd Sunday in Ordinary Time
John
18:33b-37 11/25/12 - Solemnity of Our Lord Jesus Christ the King

Home Page
Top

Cycle C 2012-2013
Luke
21:25-28, 34-36 06/24/12 - 1st Sunday of Advent
03:01-06 12/09/12 - 2nd Sunday of Advent
03:10-18 12/16/12 - 3rd Sunday of Advent
01:39-45 12/23/12 - 4th Sunday of Advent
03:15-16, 21-22 01/13/13 - Feast of the Baptism of the Lord
John
02:01-11 01/20/13 - 2nd Sunday in Ordinary Time
Luke
01:01-04; 4:14-21 01/27/13 - 3rd Sunday in Ordinary Time
04:21-30 02/03/13 - 4td Sunday in Ordinary Time
05:01-11 02/10/13 - 5th Sunday in Ordinary Time
04:01-13 02/17/13 - 1st Sunday of Lent
09:28b-36 02/24/13 - 2nd Sunday of Lent
13:01-09 03/03/13 - 3rd Sunday of Lent
15:01-03, 11-32 03/10/13 - 4th Sunday of Lent
John
08:01-11 03/17/13 - 5th Sunday of Lent
Luke
23-01-49 03/23/13 - Palm Sunday
John
20:01-09 03/30/13 - The Resurrection of the Lord - Easter Sunday
20:19-31 04/07/13 - 2nd Sunday of Easter - Divine Mercy Sunday
21:01-19 04/14/13 - 3rd Sunday of Easter
10:27-30 04/21/13 - 4th Sunday of Easter
13:31-33a, 34-35 04/28/13 - 5th Sunday of Easter
14:23-29 05/05/13 - 5th Sunday of Easter
Luke
24:46-53 05/12/13 - Solemnity of the Ascension of the Lord
John
20:19-23 05/19/13 - The Solemnity of Pentecost Sunday
16:12-15 05/26/13 - The Solemnity of The Most Holy Trinity
Luke
09:11b-17 06/02/13 - The Solemnity of The Body and Blood of Christ (Corpus Christi)
07:11-17 06/09/13 - 10th Sunday in Ordinary Time
07:36-50 06/16/13 - 11th Sunday in Ordinary Time
09:18-24 06/23/13 - 12th Sunday in Ordinary Time
09:51-62 06/30/13 - 13th Sunday in Ordinary Time
10:01-12, 17-20 07/07/13 - 14th Sunday in Ordinary Time
10:25-37 07/14/13 - 15th Sunday in Ordinary Time
10:38-42 07/21/13 - 16th Sunday in Ordinary Time
11:01-13 07/28/13 - 17th Sunday in Ordinary Time
12:13-21 08/04/13 - 18th Sunday in Ordinary Time
12:32-48 08/11/13 - 19th Sunday in Ordinary Time
12:49-53 08/18/13 - 20th Sunday in Ordinary Time
13:22-30 08/25/13 - 21st Sunday in Ordinary Time
14:1, 7-14 09/01/13 - 22nd Sunday in Ordinary Time
14:25-33 09/08/13 - 23rd Sunday in Ordinary Time
15:01-32 09/15/13 - 24th Sunday in Ordinary Time
06:01-13 09/22/13 - 25th Sunday in Ordinary Time
16:19-31 09/29/13 - 26th Sunday in Ordinary Time
17:05-10 10/06/13 - 27th Sunday in Ordinary Time
17:11-19 10/13/13 - 28th Sunday in Ordinary Time
18:01-08 10/20/13 - 29th Sunday in Ordinary Time
18:09-14 10/27/13 - 30th Sunday in Ordinary Time
19:01-10 11/03/13 - 31st Sunday in Ordinary Time
20:27-38 11/10/13 - 32nd Sunday in Ordinary Time
21:05-19 11/17/13 - 33rd Sunday in Ordinary Time
23:35-43 11/24/13 - The Solemnity of Our Lord, Christ the King-1
23:35-43 11/24/13 - The Solemnity of Our Lord, Christ the King-2

Cycle A 2013-2014
Matthew
24:37-44 11/28/13 - 1st Sunday of Advent
03:01-12 12/08/14 - 2nd Sunday of Advent
11:02-11 12/15/13 - 3rd Sunday of Advent
01:18-24 12/22/13 - 4th Sunday of Advent
03:13-17 01/12/14 - Feast of the Baptism of the Lord
John
01:29-34 01/17/14 - 2nd Sunday in Ordinary Time
Matthew
04:12-23 11/28/13 - 3rd Sunday in Ordinary Time
Luke
02:22-40 02/02/14 - Feast of the Presentation of the Lord
Matthew
05:13-16 02/09/14 - 5th Sunday in Ordinary Time
05:17-37 02/16/14 - 6th Sunday in Ordinary Time
05:38-48 02/23/14 - 7th Sunday in Ordinary Time
06:24-34 03/02/14 - 8th Sunday in Ordinary Time
04:01-11 03/09/14 - 1st Sunday of Lent
17:01-09 03/16/14 - 2nd Sunday of Lent
John
04:05-42 03/23/14 - 3rd Sunday of Lent
09:01-41 03/30/14 - 4th Sunday of Lent
11:01-45 04/06/14 - 5th Sunday of Lent
Matthew
26:14-27:66 04/13/14 - Palm Sunday of the Passion of the Lord
28:01-10 04/20/14 - Easter Sunday of the Resurrection of the Lord
20:19-31 04/27/14 - 2nd Sunday of Easter - Sunday of Divine Mercy
Luke
24:13-35 05/04/14 - 3rd Sunday of Easter
John
10:01-10 05/11/14 - 4th Sunday of Easter
14:01-12 05/18/14 - 5th Sunday of Easter
14:15-21 05/25/14 - 6th Sunday of Easter
Matthew
28:16-20 05/29/14 - Solemnity of the Ascension of the Lord
John
20:19-23 06/08/14 - Solemnity of Pentecost
03:16-18 06/15/14 - Solemnity of Pentecost Sunday
06:51-58 06/22/14 - Solemnity of the Most Holy Body and Blood of Christ (Corpus Christi)
Matthew
16:13-19 06/29/14 - Solemnity of Sts. Peter and Paul, Apostles
11:25-30 07/06/14 - 14th Sunday in Ordinary Time
13:01-23 07/13/14 - 15th Sunday in Ordinary Time
13:24-43 07/20/14 - 16th Sunday in Ordinary Time
13:44-52 07/28/14 - 17th Sunday in Ordinary Time
14:13-21 08/03/14 - 18th Sunday in Ordinary Time
14:22-33 08/10/14 - 19th Sunday in Ordinary Time
15:21-28 08/17/14 - 20th Sunday in Ordinary Time
16:21-27 08/31/14 - 22nd Sunday in Ordinary Time
18:15-20 09/07/14 - 23rd Sunday in Ordinary Time
John
03:13-17 09/14/14 - Feast of the Exaltation of the Holy Cross
Matthew
20:01-16a 09/21/14 - 25th Sunday in Ordinary Time
21:28-32 09/28/14 - 26th Sunday in Ordinary Time
21:33-43 10/05/14 - 27th Sunday in Ordinary Time
22:01-14 10/12/14 - 28th Sunday in Ordinary Time
22:15-21 10/19/14 - 29th Sunday in Ordinary Time
22:34-40 10/26/14 - 30th Sunday in Ordinary Time
John
06:37-40 11/02/14 - Commemoration of All the Faithful Departed (All Souls' Day)
02:13-22 11/09/14 - Feast of the Dedication of the Lateran Basilica
Matthew
25:14-30 11/16/14 - 33rd Sunday in Ordinary Time
25:31-46 11/23/14 - Solemnity of Our Lord Jesus Christ, King of the Universe
Cycle B 2014-2015
Mark
13:33-37 11/30/14 - 1st. Sunday of Advent
01:01-08 12/07/14 - 2nd Sunday of Advent
John
01:06-08, 19-28 12/14/14 - 3rd Sunday of Advent
Luke
01:26-38 12/20/14 - 4th Sunday of Advent
Mark
01:07-11 01/11/15 - Feast of the Baptism of the Lord
John
01-35-42 01/18/15 - 2nd Sunday in Ordinary Time
Mark
01:14-20 01/25/15 - Feast of the Baptism of the Lord
01:21-28 02/01/15 - 4th Sunday in Ordinary Time
01:29-39 02/08/15 - 5th Sunday in Ordinary Time
01:40-45 02/15/15 - 6th Sunday in Ordinary Time
01:12-15 02/22/15 - 1st Sunday of Lent
09:02-10 03/01/15 - 2nd Sunday of Lent
John
02-13-35 03/08/15 - 3rd Sunday of Lent
03:14-21 03/15/15 - 4th Sunday of Lent
12:20-33 03/22/15 - 5th Sunday of Lent
Mark
15:01-39 03/29/15 - Palm Sunday of the Passion of the Lord
John
20:01-09 04/05/15 - Easter Sunday of the Resurrection of the Lord (Day)
20:19-31 04/12/15 - 2nd Sunday of Easter (Sunday of Divine Mercy)
Luke
24:35-48 04/19/15 - 3rd Sunday of Easter
John
10:11-18 04/26/15 - 4th Sunday of Easter
15:01-08 05/03/15 - 5th Sunday of Easter
15:09-17 05/10/15 - 6th Sunday of Easter
Mark
16:15-20 05/17/15 - Solemnity of the Ascension of the Lord
John
16:12-15 05/24/15 - Solemnity of Pentecost Sunday
Matthew
28:16-20 05/31/15 - Solemnity of the Most Holy Trinity
Mark
14:12-16, 22-26 06/07/15 - Solemnity of the Most Holy Body and Blood of Christ (Corpus Christi)
04:26-34 06/11/05 - 11th Sunday in Ordinary Time
04:35-41 06/21/15 - 12th Sunday in Ordinary Time
05:21-43 06/28/15 - 13th Sunday in Ordinary Time
06:01-06 07/05/15 - 14th Sunday in Ordinary Time
06:07-13 07/12/15 - 15th Sunday in Ordinary Time
06:30-34 07/19/15 - 16th Sunday in Ordinary Time
06:01-15 07/28/15 - 17th Sunday in Ordinary Time
John
06:24-35 08/02/15 - 18th Sunday in Ordinary Time
06:41-51 08/09/15 - 19th Sunday in Ordinary Time
06:51-58 08/16/15 - 20th Sunday in Ordinary Time
06:60-69 08/23/15 - 21st Sunday in Ordinary Time
Mark
07:01-08, 14-15, 21-23 - 22nd Sunday in Ordinary Time
07:31-34 09/06/15 - 23rd Sunday in Ordinary Time
08:27-35 09/13/15 - 24th Sunday in Ordinary Time
09:30-37 09/20/15 - 25th Sunday in Ordinary Time-a
09:30-37 09/20/15 - 25th Sunday in Ordinary Time-b
09:38-43, 45, 47-48 09/27/15 - 26th Sunday in Ordinary Time
10:02-16 10/04/15 - 27th Sunday in Ordinary Time
10:17-30 10/11/15 - 28th Sunday in Ordinary Time
10:35-45 10/18/15 - 29th Sunday in Ordinary Time
10:46-52 10/25/15 - 30th Sunday in Ordinary Time
Matthew
05:01-12a 11/01/15 - Solemnity of All Saints
Mark
12:38-44 11/08/15 - 32nd Sunday in Ordinary Time
13:24-32 11/15/15 - 33rd Sunday in Ordinary Time
John
18:33b-37 11/22/15 - Solemnity of Our Lord Jesus Christ, King of the Universe

Home Page
Top
Cycle C 2015-2016
Luke
21:25-28, 34-36 11/29/15 - 1st Sunday in Advent
03:01-06 12/06/15 - 2nd Sunday in Advent
03:10-18 12/13/15 - 3rd Sunday in Advent
01:39-45 12/20/15 - 4th Sunday in Advent
02:41-52 12/27/15 - Feast of the Holy Family of Jesus, Mary and Joseph
03:15-16,21-22 01/08/16 - Feast of the Baptism of the Lord
John
02:01-11 01/17/16 - 2nd Sunday in Ordinary Time
Luke
01:01-04: 04:14-21 - 3rd Sunday in Ordinary Time
04:21-30 01/31/16 - 4th Sunday in Ordinary Time (a)
04:21-30 01/31/16 - 4th Sunday in Ordinary Time (b)
05:01-11 02/07/16 - 5th Sunday in Ordinary Time
04:01-13 02/14/16 - 1st Sunday of Lent
09:28b-36 02/21/16 - 2nd Sunday of Lent
13:01-09 02/28/2016 - 3rd Sunday of Lent
15:01-03,11-32 03/06/16 - 4th Sunday of Lent
John
08:01-11 03/13/2016 - 5th Sunday of Lent
Luke
22:14-23:56 or 23:1-49 3/20/16 - Palm Sunday of the Passion of the Lord
John
20:01-09 03/27/2016 - Easter Sunday of the Resurrection of the Lord
20:19-31 04/03/2016 - Second Sunday of Easter (Sunday of Divine Mercy)
21:01-19 04/10/2016 - Third Sunday of Easter
10:27-30 04/17/2016 - Fourth Sunday of Easter
13:31-33a, 34-35 04/24/2016 - Fifth Sunday of Easter
14:23-29 05/01/2016 - Sixth Sunday of Easter
Luke
24:46-53 05/08/2016 - Seventh Sunday of Easter (Celebrated as the Solemnity of the Ascension of the Lord)
John
14:15-16, 23b-26 05/15/2016 - Pentecost Sunday (Solemnity)
16:12-15 05/22/2016 - Solemnity of the Most Holy Trinity
Luke
09:11b-17 05/29/2016 - Solemnity of the Most Holy Body and Blood of Christ (Corpus Christi)
07:11-17 06/05/2016 - 10th Sunday in Ordinary Time
07:36-08:03 06/12/2016 - 11th Sunday in Ordinary Time
09:18-24 06/19/2016 - 12th Sunday in Ordinary Time
09:51-63 06/26,2016 - 13th Sunday in Ordinary Time
10:1-12, 17-20 07/03/2016 - 14th Sunday in Ordinary Time
10:38-42 07/17/2016 - 16th Sunday in Ordinary Time
11:01-13 07/24/2016 - 17th Sunday in Ordinary Time
12:13-21 07/31/2016 - 18th Sunday in Ordinary Time
12:32-48 08/07/2016 - 19th Sunday in Ordinary Time
12:49-53 08/14/2016 - 20th Sunday in Ordinary Time
13:22-30 08/21/2016 - 21st Sunday in Ordinary Time
14:01, 07-14 08/28/2016 - 22nd Sunday in Ordinary Time
14:25-33 09/04/2016 - 23rd Sunday in Ordinary Time
15:01-32 09/11/2016 - 24th Sunday in Ordinary Time
16:01-13 09/18/2016 - 25th Sunday in Ordinary Time
16:19-31 09/27/2016 - 26th Sunday in Ordinary Time
17:05-10 10/02/2016 - 27th Sunday in Ordinary Time
17:11-19 10/09/2016 - 28th Sunday in Ordinary Time
18:01-08 10/16/2016 - 29th Sunday in Ordinary Time
18:09-14 10/23/2016 - 30th Sunday in Ordinary Time
19:01-10 10/30/2016 - 31st Sunday in Ordinary Time
20:27-38 11/06/2016 - 32nd Sunday in Ordinary Time
21:05-19 11/13/2016 - 33rd Sunday in Ordinary Time
Cycle A 2016-2017
Matthew
24:37-44 11/20/2016 - 1st Sunday of Advent
03:01-12 12/04/2016 - 2nd Sunday of Advent
11:02-11 12/11/2016 - 3rd Sunday of Advent
01:18-24 12/18/2016 - 4th Sunday of Advent
John
01:01-18 12/25/2016 - Solemnity of the Nativity of the Lord - Day
Matthew
02:01-12 01/08/2017 - Solemnity of the Epiphany of the Lord
John
01:29-34 01/15/2017 - 2nd Sunday of Ordinary Time
Matthew
04:12-23 01/22/2017 - 3rd Sunday in Ordinary Time
05:01-12a 01/29/2017 - 4th Sunday in Ordinary Time
05:13-16 02/05/2017 - 5th Sunday in Ordinary Time
05:17-37 02/12/2017 - 6th Sunday in Ordinary Time
05:38-48 02/19/2017 - 7th Sunday in Ordinary Time
06:24-34 02/26/2017 - 8th Sunday in Ordinary Time
04:01-11 03/05/2017 - 1st Sunday of Lent
17:01-19 03/12/2017 - 2nd Sunday of Lent
John
04:05-42 03/19/2017 - 3rd Sunday of Lent
09:01-41 03/26/2017 - 4th Sunday of Lent
11:01-45 04/02/2017 - 5th Sunday of Lent

Matthew
26:14-27 04/09/2017 - Palm Sunday of the Passion of the Lord
28:01-10 04/16/2017 - Easter Sunday of the Resurrection of the Lord
John
20:19-31 04/23/2017 - Second Sunday of Easter or Sunday of Divine Mercy

Luke
24:13-35 04/30/2017 - Third Sunday of Easter

John
10:01-10 05/07/2017 - Fourth Sunday of Easter
14:01-12 05/14/2017 - Fifth Sunday of Easter
14:15-21 05/21/2017 - Sixth Sunday of Easter

Matthew
28:16-20 05/21/2017 - Solemnity of the Ascension of the Lord

John
20:19-23 06/07/2017 - Solemnity of Pentecost Sunday
03:16-18 06/11-2017 - Solemnity of the Holy Trinity

Matthew
10:37-42 07/02/2017 - 13th Sunday in Ordinary Time
13:01-23 07/16/2017 - 15th Sunday in Ordinary Time
13:44-52 07/30/2017 - 17th Sunday in Ordinary Time
14:22-33 08/13/2017 - 19th Sunday in Ordinary Time
16:13-20 08/27/2017 - 21st Sunday in Ordinary Time
16:21-27 09/03/2017 - 22nd Sunday in Ordinary Time
18:15-20 09/10/2017 - 23rd Sunday in Ordinary Time
18:21-35 09/17/2017 - 24th Sunday in Ordinary Time
20:01-16a 09/24/2017 - 25th Sunday in Ordinary Time
21:28-32 10/01/2017 - 26th Sunday in Ordinary Time
21:33-43 10/08/2017 - 27th Sunday in Ordinary Time
22:01-14 10/15/2017 - 28th Sunday in Ordinary Time
22:15-21 10/22/2017 - 29th Sunday in Ordinary Time
22:34-40 10/29/2017 - 30th Sunday in Ordinary Time
23:01-12 11/05/2017 - 31st Sunday in Ordinary Time
25:01-13 11/12/2017 - 32nd Sunday in Ordinary Time
25:14-30 11/19/2017 - 33rd Sunday in Ordinary Time
25:31-46 11/22/2017 - Solemnity of Our Lord Jesus Christ, King of the Universe
Mark
13:33-37 12/03/2017 - 1st Sunday of Advent
01:01-08 12/10/2017 - 2nd Sunday of Advent
John
01:06-08, 19-28 12/17/2017 - 3rd Sunday of Advent

Luke
01:26-38 12/24/17 - 4th Sunday of Advent
02:01-14 12/25/17 - Solemnity of the Nativity of the Lord, Christmas Mass during the Night
John
01:35-42 01/14/18 - 2nd Sunday in Ordinary Time
01:04-20 01/21/18 - 3rd Sunday in Ordinary Time
Mark
01:21-28 01/28/18 - 4th Sunday in Ordinary Time
01:29-39 02/04/18 - 5th Sunday in Ordinary Time
01:40-45 02/11/18 - 6th Sunday in Ordinary Time
01:12-15 02/18/18 - 1st Sunday of Lent
09:02-10 02/25/18 - 2nd Sunday of Lent
John
02:13-25 03/04/18 - 3rd Sunday in Ordinary Time
03:14-21 03/11/18 - 4th Sunday in Ordinary Time
12:20-33 03/18/18 - 5th Sunday in Ordinary Time
Mark
14:01-15:47 - 03/25/18 - Palm Sunday of the Passion of the Lord
John
20:01-09 04/01/18 - Easter Sunday of the Resurrection of the Lord
20:19-31 04/08/18 - 2nd Sunday of Easter - Sunday of Divine Mercy
Luke
24:35-48 04/15/18 - 3rd Sunday of Easter

John
10:11-18 04/22/18 - 4th Sunday of Easter
15:01-08 04/29/18 - 5th Sunday of Easter
15:09-17 05/06/18 - 6th Sunday of Easter
Mark
16:15-20 05/13/18 - Solemnity of the Ascension of the Lord
John
20:19-23 05/20/18 - Pentecost Sunday during the day
Matthew
28:16-20 06/03/18 - Solemnity of the Most Holy Trinity
Mark
14:12-16, 22-26 06/03/18 - Solemnity of the Most Holy Body and Blood of Christ - Corpus Christi
03:20-35 06/10/18 - 10th Sunday in Ordinary Time

Luke
01:57-66, 80 06/24/18 - Solemnity of the Nativity of St. John the Baptist, Fr. Jack Peterson, YA
01:57-66, 80 06/24/18 - Solemnity of the Nativity of St. John the Baptist, Robert Wagner
Mark
05:21-43 07/01/18 - 13th Sunday in Ordinary Time
06:01-06 07/08/18 - 14th Sunday in Ordinary Time
06:07-13 07/15/18 - 15th Sunday in Ordinary Time
06:30-34 07/22/18 - 16th Sunday in Ordinary Time
John
06:01-15 07/29/18 - 17th Sunday in Ordinary Time
06:24-35 08/05/18 - 18th Sunday in Ordinary Time
06:41-51 08/12/18 - 19th Sunday in Ordinary Time
06:60-69 08/21/18 - 21st Sunday in Ordinary Time
Mark
07:01-08, 14-15, 22-23 09/02/18 - 22nd Sunday in Ordinary Time
07:31-37 09/09/18 - 23rd Sunday in Ordinary Time
08:27-35 09/16/18 - 24th Sunday in Ordinary Time
09:30-37 09/23/18 - 25th Sunday in Ordinary Time
09:38-43, 45, 47-48 - 09/30/18 - 26th Sunday in Ordinary Time
10:02-16 10/07/18 - 27th Sunday in Ordinary Time
10:17-30 10/14/18 - 28th Sunday in Ordinary Time
10:35-45 10/21/18 - 29th Sunday in Ordinary Time
10:46-52 10/28/18 - 30th Sunday in Ordinary Time
12:28b-34 11/04/18 - 31st Sunday in Ordinary Time
12:38-44 11/11/18 - 32nd Sunday in Ordinary Time
13:24-32 11/18/18 - 33rd Sunday in Ordinary Time
John
18:33-37 11/25/78 - Solemnity of Our Lord Jesus Christ, King of the Universe
Cycle C 2018-2019
Luke
21:25-28, 34-36 12/01/18 - 1st Sunday of Advent
03:01-06 12/09/18 - 2nd Sunday of Advent
03:10-18 12/16/18 - 3rd Sunday of Advent
01:39-45 12/23/18 - 4th Sunday of Advent
03:15-16, 21-22 01/13/19 - The Baptism of the Lord
John
02:01-11 01/20/19 - 2nd Sunday in Ordinary Time
Luke
01:01-04; 14-21 01/27/19 - 3rd Sunday in Ordinary Time
04:21-30 02/03/19 - 4th Sunday in Ordinary Time
05:01-11 02/10/19 - 5th Sunday in Ordinary Time
06:17, 20-26 02/17/19 - 6th Sunday in Ordinary Time
06:39-45 03/03/19 - 8th Sunday in Ordinary Time
04:01-13 03/10/19 - 1st Sunday of Lent
09:28-36 03/17/19 - 2nd Sunday of Lent
13:01-09 03/24/19 - 3rd Sunday of Lent
15:1-3, 11-32 03/24/19 - 4th Sunday of Lent
John
08:01-11 03/31/19 - 5th Sunday of Lent
Luke
22:14-23:56 Palm Sunday of the Passion of the Lord
John
20:01-09 04/21/19 - Easter Resurrection Sunday during the day
20:19-31 04/28/19 - 2nd Sunday of Easter
21:01-19 05//05/19 - 3rd Sunday of Easter
10:27-30 05/12/19 - 4th Sunday of Easter
13:31-33a, 34-35 05/19/19 - 5th Sunday of Easter
14:23-29 05/26/19 - 6th Sunday of Easter
Luke
24:46-53 The Ascension of the Lord
John
07:37-39; 20:19-23: 14:15-16, 23B-26 06-09-19 - Solemnity of Pentecost Sunday during the day
16:12-15 06/16/19 - Solemnity of the Most Holy Trinity
Luke
09:11b-17 06/23/19 - Solemnity of the Most Holy Body and Blood of Christ - Corpus Christi
09:51-62 06/30/19 - 13th Sunday in Ordinary Time
10:01-12, 17-20 07/14/19 - 15th Sunday in Ordinary Time
10:38-42 07/21/19 - 16th Sunday in Ordinary Time
11:01-13 07/28/19 - 17th Sunday in Ordinary Time
12:13-21 08/04/19 - 18th Sunday in Ordinary Time
12:32-48 08/11/19 - 19th Sunday in Ordinary Time
12:49-53 08/18/19 - 20th Sunday in Ordinary Time
13:22-30 08/25/19 - 21st Sunday in Ordinary Time
14:01,07-14 09/01/19 - 22nd Sunday in Ordinary Time
14:25-32 09/08/19 - 23rd Sunday in Ordinary Time
15:01-32 09/15/19 - 24rh Sunday in Ordinary Time
16:19-31 09/29/19 - 26th Sunday in Ordinary Time
17:05-10 10/06/19 - 27th Sunday in Ordinary Time
17:11-17 10/13/19 - 28th Sunday in Ordinary Time
18:01-08 10/20/19 - 29th Sunday in Ordinary Time
18:09-14 10/27/19 - 30th Sunday in Ordinary Time
Matthew
05:01-12a 11/01/19 - Solemnity of All Saints In Ordinary Time

Luke
19:01-10 11/03/19 - 31st Sunday in Ordinary Time
20:27-38 11/10/19 - 32nd Sunday in Ordinary Time
21:05-19 11/17/19 - 33rd Sunday in Ordinary Time
23:35-43 11/24/19 - Solemnity of Christ, King of the Universe
Cycle A 2019-2020
Matthew
24:37-44 12/01/19 - 1st Sunday of Advent
03:01-12 12/08/19 - 2nd Sunday of Advent
11:02-11 12/15/19 - 3rd Sunday of Advent
01:18-24 12/22/19 - 4th Sunday of Advent
02:13-15, 19-23 12/29/19 - Feast of the Holy Family of Jesus, Mary and Joseph
03:13-17 01/12/20 - Feast of the Baptism of the Lord
John
01:29-34 01/19/20 - 2nd Sunday in Ordinary Time
Matthew
04:12-23 01/26/20 - 3rd Sunday in Ordinary Time
Luke
02:22-40 02/02/20 - Feast of the Presentation of the Lord

Matthew
05:13-16 02/09/20 - 5th Sunday in Ordinary Time
05:17-37 02/16/20 - 6th Sunday in Ordinary Time
05:38-48 02/23/20 - 7th Sunday in Ordinary Time
04:01-11 03/01/20 - 1st Sunday of Lent
17:01-09 03/08/20 - 2nd Sunday of Lent
John
04:05-42 03/15/20 - 3rd Sunday of Lent
09:01-41 03/22/20 - 4th Sunday of Lent, Laetare Sunday
11:25a,26 03/29/20 - 5th Sunday of Lent
Matthew
26:14-27,66 04/05/20 - Palm Sunday of the Passion of the Lord
John
20:01-09 04/12/20 - Resurrection of the Lord During the Day
20:19-31 04/19/20 - 2nd Sunday of Easter (Divine Mercy Sunday)
Luke
24:13-35 04/26/20 - 3rd Sunday of Easter
John
10:01-10 05/03/20 - 4th Sunday of Easter
14:01-12 05/10/20 - 5th Sunday of Easter

Matthew
28:16-20 05/21/20 - Ascension of the Lord - Thursday
John
20:19-23 05/31/20 - Pentecost Sunday
03:16-18 06/07/20 - The Most Holy Trinity
06:51-58 06/14/20 - Solemnity of the most Holy Body and Blood of Christ (Corpus Christi)
Matthew
10:26-33 06/21/20 - 12th Sunday in Ordinary Time
10:37-42 06/28/20 - 13th Sunday in Ordinary Time
11:25-30 07/05/20 - 14th Sunday in Ordinary Time
13:01-23 07/12/20 - 15th Sunday in Ordinary Time
13:24-43 07/19/20 - 16th Sunday in Ordinary Time
13:44-52 07/26/20 - 17th Sunday in Ordinary Time
14:13-21 08/02/20 - 18th Sunday in Ordinary Time
14:22-33 08/09/20 - 19th Sunday in Ordinary Time
15:21-28 08/16/20 - 20th Sunday in Ordinary Time
16:13-20 08/23/20 - 21st Sunday in Ordinary Time
16:21-27 08/30/20 - 22nd Sunday in Ordinary Time
18:15-20 09/06/20 - 23rd Sunday in Ordinary Time
18:21-35 09/13/20 - 24th Sunday in Ordinary Time
20:01-16 09/20/20 - 25th Sunday in Ordinary Time
21:28-32 09/27/20 - 26th Sunday in Ordinary Time
21:33-43 10/04/20 - 27th Sunday in Ordinary Time
22:01-14 10/11/20 - 28th Sunday in Ordinary Time
22:15-21 10/18/20 - 29th Sunday in Ordinary Time
22:34-40 10/25/20 - 30th Sunday in Ordinary Time
05:01-12a 11/01/20 - Solemnity of All Saints
25:01-13a 11/08/20 - 32nd Sunday in Ordinary Time
25:14-30 11/15/20 - 33rd Sunday in Ordinary Time
25:31-46 11/22/20 - Our Lord Jesus Christ, King of the Universe
Cycle B 2020-2021
Mark
13:33-37 11/29/20 - 1st Sunday of Advent
01:01-08 12/06/20 - 2nd Sunday of Advent
John
01:06-08, 19-28 12/13/20 - 3rd Sunday of Advent
Luke
01:26-38 12/21/20 - 4th Sunday of Advent
02:22-40 12/27/20 - Feast of the Holy Family of Jesus, Mary and Joseph
Matthew
02:01-12 01/03/21 - Solemnity of the Epiphany of the Lord
John
01:35-42 01/17/21 - 2nd Sunday in Ordinary Time
Mark
01:14-20 01/24/21 - 3rd Sunday in Ordinary Time
01:21-28 01/31/21 - 4th Sunday in Ordinary Time
01:29-39 02/07/21 - 5th Sunday in Ordinary Time
01:40-45 02/14/21 - 6th Sunday in Ordinary Time
01:12-15 02/21/21 - 1st Sunday of Lent
09:02-10 02/28/21 - 2nd Sunday of Lent

John
02:13-25 03/07/21 - 3rd Sunday of Lent
03:14-21 03/14/21 - 4th Sunday of Lent
12:20-33 03/21/21 - 5th Sunday of Lent
Mark
14:1-15:47 03/28/21 - Palm Sunday of the Passion of the Lord
John
20:01-09 04/04/21 - Easter Sunday of the Resurrection of the Lord
20:19-31 04/11/21 - 2nd Sunday after Easter - Divine Mercy Sunday
Luke
24:35-48 04/18/21 - 3rd Sunday of Easter
John
10:11-18 04/25/21 - 4th Sunday of Easter
01:01-08 05/02/21 - 5th Sunday of Easter
15:09-17 05/09/21 - 6th Sunday of Easter
Mark
16:15-20 05/16/21 - Solemnity of the Ascension of the Lord
John
20:19-23 05/23/21 - Solemnity of Pentecost Sunday
Matthew
28:16-20 05/30/21 - Solemnity of the Most Holy Trinity
Mark
14:12-16, 22-26 06/06/21 - Solemnity of the Body and Blood of Jesus Christ - Corpus Christi
04:26-34 06/13/21 - 11th Sunday in Ordinary Time
04:35-41 06/20/21 - 12th Sunday in Ordinary Time
05:21-43 06/27/21 - 13th Sunday in Ordinary Time
06:01-06 07/04/21 - 14th Sunday in Ordinary Time
06:07-13 07/11/21 - 15th Sunday in Ordinary Time
06:30-34 07/18/21 - 16th Sunday in Ordinary Time
John
06:01-15 07/25/21 - 17th Sunday in Ordinary Time
06:24-35 08/01/21 - 18th Sunday in Ordinary Time
06:41-51 08/08/21 - 19th Sunday in Ordinary Time
Luke
01:39-56 08/15/21 - Solemnity of the Assumption of the Blessed Virgin Mary
John
06:60-69 08/22/21 - 21st Sunday in Ordinary Time
Mark
07:01-08,14-15,21-23 08/29/21 - 22nd Sunday in Ordinary Time
07:31-37 09/05/21 - 23rd Sunday in Ordinary Time
08:27-35 09/12/21 - 24th Sunday in Ordinary Time
09:30-37 09/19/21 - 25th Sunday in Ordinary Time
09:38-43, 45, 47-48 09/26/21 - 26th Sunday in Ordinary Time
10:02-16 10/03/21 - 27th Sunday in Ordinary Time
10:17-30 10/10/21 - 28th Sunday in Ordinary Time
10:35-45 10/17/21 - 29th Sunday in Ordinary Time
10:46-52 10/24/21 - 30th Sunday in Ordinary Time
12:28-34 10/31/21 - 31st Sunday in Ordinary Time
12:38-44 11/07/21 - 32nd Sunday in Ordinary Time
13:24-32 11/14/21 - 33rd Sunday in Ordinary Time
John
18:33-37 11/21/21 - Solemnity of Our Lord, Jesus Christ, King of the Universe
Cycle C 2021 - 2022
Luke
21:25-26. 34-36 11/28/21 - 1st Sunday of Advent
03:01-06 12/05/21 - 2nd Sunday of Advent
03:10-18 12/12/21 - 3rd Sunday of Advent
01:39-45 12/19/21 - 4th Sunday of Advent
02:41-52 12/26/21 - Feast of the Most Holy Family of Jesus, Mary and Joseph
Matthew
02:01-12 01/02/22 - Solemnity of the Epiphany of the Lord
John
02:01-11 01/16/22 - 2nd Sunday in Ordinary Time
Luke
01:01-04,04:14-21 01/23/22 - 3rd Sunday in Ordinary Time
04:21-30 01/30/22 - 4th Sunday in Ordinary Time
05:01-11 02/06/22 - 5th Sunday in Ordinary Time
06:17,20-26 02/13/22 - 6th Sunday in Ordinary Time
06:27-38 02/20/22 - 7th Sunday in Ordinary Time
06:39-45 02/27/22 - 8th Sunday in Ordinary Time
04:01-13 03/06/22 - 1st Sunday of Lent
09:28-36 03/13/22 - 2nd Sunday of Lent
13:01-09 03/20/22 - 3rd Sunday of Lent
15:01-03,11-32 03/27/22 - 4th Sunday of Lent
John
08:01-11 04/03/22 - 5th Sunday of Lent
Luke
22:14-23:56 04/10/2022 - Palm Sunday
John
20:01-09 04/17/22 - Easter Sunday
20:19-31 04/24/22 - 2nd Sunday of Easter (Divine Mercy Sunday)
21:01-19 05/01/22 - 3rd Sunday of Easter
10:27-30 05/08/22 - 4th Sunday of Easter
13:31-33a,34-35 05/15/22 - 5th Sunday of Easter
14:23-29 05/22/22 - 6th Sunday of Easter
20:19-23 06/12/22 - Pentecost Sunday
Luke
09:11b-17 06/19/22 - Solemnity of the Most Holy Body and Blood of Christ (Corpus Christi)
09:51-62 06/26/22 - 13th Sunday in Ordinary Time
10:01-12,17-20 07/03/22 - 14th Sunday in Ordinary Time
10:25-37 07/10/22 - 15th Sunday in Ordinary Time
10:38-42 07/17/22 - 16th Sunday in Ordinary Time
11:01-13 07/24/22 - 17th Sunday in Ordinary Time
12:13-21 07/31/22 - 18th Sunday in Ordinary Time
12:32-48 08/07/22 - 19th Sunday in Ordinary Time
12:49-53 08/14/22 - 20th Sunday in Ordinary Time
13:22-30 08/21/22 - 21st Sunday in Ordinary Time
14:01,07-14 08/28/22 - 22nd Sunday in Ordinary Time
14:25-33 09/04/22 - 23rd Sunday in Ordinary Time
15:01-32 09/11/22 - 24th Sunday in Ordinary Time
16:01-13 09/18/22 - 25th Sunday in Ordinary Time
16:19-31 09/25/22 - 26th Sunday in Ordinary Time
17:05-10 10/02/22 - 27th Sunday in Ordinary Time
17:11-19 10/09/22 - 28th Sunday in Ordinary Time
18:01-08 10/16/22 - 29th Sunday in Ordinary Time
18:09-14 10/23/22 - 30th Sunday in Ordinary Time
19:01-10 10/30/22 - 31st Sunday in Ordinary Time
20:27-38 11/06/22 - 32nd Sunday in Ordinary Time
21:05-19 11/13/22 - 33rd Sunday in Ordinary Time
23:35-43 11/20/22 - Christ the King
Cycle A 2022-2023
Matthew
24:37-44 11/27/22 - 1st Sunday of Advent
03:01-12 12/04/22 - 2nd Sunday of Advent
11:02-11 12/11/22 - 3rd Sunday of Advent
01:18-24 12/18/22 - 4th Sunday of Advent
John
01:01-18 12/25/22 - Nativity of the Lord
01:29-34 01/15/23 - 2nd Sunday in Ordinary Time

Matthew
04:12-23 01/22/23 - 3rd Sunday in Ordinary Time
05:01-12a 01/29/23 - 4th Sunday in Ordinary Time
05:13-16 02/05/23 - 5th Sunday in Ordinary Time
05:17-37 02/12/23 - 6th Sunday in Ordinary Time
05:38-48 02/19/23 - 7th Sunday in Ordinary Time
04:01-11 02/26/23 - 1st Sunday of Lent
17:01-09 03/05/23 - 2nd Sunday of Lent
John
04:05-42 03/12/23 - 3rd Sunday of Lent
09:01-41 03/19/23 - 4th Sunday of Lent
11:01-45 03/26/23 - 5th Sunday of Lent
Matthew
21:01-11, 26:14-27:66 - 04/02/23 - Palm Sunday of the Passion of the Lord
John
20:01-09 04/09/23 - Easter Sunday of the Resurrection of the Lord
20:19-31 04/16/23 - 2nd Sunday after Easter - Divine Mercy Sunday
Luke
24:13-35 04/23/23 - 3rd Sunday of Easter
John
10:01-10 04/30/23 - 4th Sunday of Easter
14:01-12 05/07/23 - 5th Sunday of Easter
14:15-21 05/14/23 - 6th Sunday of Easter
Matthew
28:16-20 05/21/23 - The Ascension of the Lord (Transferred)
John
20:19-23 05/28/23 - Pentecost Sunday
03:16-18 06/04/23 - The Most Holy Trinity
06:51-58 06/11/23 - Solemnity of Corpus Christi
Matthew
09:36-10:8 06/18/23 - 11th Sunday in Ordinary Time
10:26-33 06/25/23 - 12th Sunday in Ordinary Time
10:37-42 07/02/23 - 13th Sunday in Ordinary Time
11:25-30 07/09/23 - 14th Sunday in Ordinary Time
13:01-23 07/16/23 - 15th Sunday in Ordinary Time
13:24-43 07/23/23 - 16th Sunday in Ordinary Time
13:44-52 07/30/23 - 17th Sunday in Ordinary Time
17:01-09 08/06/23 - Transfiguration of Our Lord Jesus Christ
13:22-33 08/13/23 - 19th Sunday in Ordinary Time
15:21-28 08/20/23 - 20th Sunday in Ordinary Time
16:13-20 08/27/23 - 21st Sunday in Ordinary Time
16:21-27 09/03/23 - 22nd Sunday in Ordinary Time
18:15-20 09/10/23 - 23rd Sunday in Ordinary Time
18:21-35 09/17/23 - 24th Sunday in Ordinary Time
20:01-16 09/24/23 - 25th Sunday in Ordinary Time
21:28-32 10/01/23 - 26th Sunday in Ordinary Time
21:33-43 10/08/23 - 27th Sunday in Ordinary Time
22:01-14 10/15/23 - 28th Sunday in Ordinary Time
22:15-21 10/22/23 - 29th Sunday in Ordinary Time
22:34-40 10/29/23 - 30th Sunday in Ordinary Time
23:01-12 11/05/23 - 31st Sunday in Ordinary Time
25:01-13 11/12/23 - 32nd Sunday in Ordinary Time
25:14-30 11/19/23 - 33rd Sunday in Ordinary Time
25:31-46 11/26/23 - Our Lord Jesus Christ, King of the Universe
Cycle B 2023-2024
Mark
13:33-37 12/03/23 - 1st Sunday of Advent
01:01-08 12/10/23 - 2nd Sunday of Advent