Return to Index The Catholic Faith
Return to Level Two Topic Index
Home Page
Prayer is something required of us by the First Commandment. It is necessary for us to pray, and we must do so every day. God commanded us to pray, and he listens to our prayers.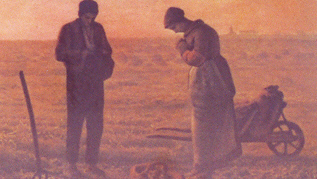 Prayer is defined as the raising of the mind and heart to God. Our prayer is our communication with God. It may be done briefly or at length. We must have God in mind when we pray. We must think of something about him which moves us to love him. Then we can talk with him, adore him, tell him we are sorry for our sin, or ask him for things we need. One of the best ways to do this is to consider something Jesus said or did. Jesus, being man as well as God, can be pictured in the imagination; this helps to stir our heart, and then we can, for instance, make an act of faith, and act of hope, or an act of love.
There are two forms of prayer: vocal prayer and mental prayer. In the first we can use a set formula, like the Our Father, and it is spoken or recited. In the other we pray silently, with or without words; as we just think about God and love him.
Our Need to Pray
Jesus strongly encourages us to pray. St. Luke records, "He (Jesus) told them a parable on the necessity of praying always and not losing heart...." (Lk 18:1)
This means that we must pray even when we do not feel like it, as well as when we do; when unwanted thoughts interrupt our concentration; when worries tug us away from our thoughts about God, about Jesus, and about the saints. These interruptions are called "distractions". When they happen, we must return to prayer calmly and patiently. Distractions like this are not our fault. But if we continue to daydream and, after we realize it, continue to daydream instead of pray, we are at fault. If my mind wanders a hundred times, and I direct it back to prayer each time, there is no fault. In fact, there is great merit, because this is hard work and shows God that I love him and want to please him. By praying to God--asking for what we need, thanking him for what he has given us--we acknowledge that we are his creatures and that we are totally dependent on him.
Jesus assures us that our prayers will be answered. He says: "Ask, and you will receive. Seek, and you will find. Knock, and it will be opened to you." (Mt 7:7)
We will not, of course, get what is bad for us or what is really unnecessary. But God will always give us what is best for us.
Particular Prayers
There is a special prayer of the Church called the Liturgy of the Hours or the Divine Office. It is a prayer of praise and petition using the psalms and readings from Scripture and the writings of the saints. Certain members of the Church, such as priests, are required to pray the Divine Office every day, but all of us in the Church are invited to join in the Church's praise of God in this rich and beautiful form of prayer.
Another prayer specially recommended by the Church is the Rosary. For about eight hundred years, countless numbers of the faithful have made it part of their daily prayer. The Rosary is divided into mysteries, twenty episodes in the lives of Jesus and Mary, and we are to think about these mysteries as we say the vocal prayers - mainly the Hail Marys. The prayers should be said slowly as our hears are moved by what is in our minds. And what could be better suited to help us pray than scenes from the lives of Jesus and Mary?
Used with the permission of The Ignatius Press 800-799-5534
Return to Index The Catholic Faith
Return to Level Two Topic Index
Top
Home Page